Navigation / Home / Family History / DNA Project / Pictures / Stories / Back to Generation 7
---
Daniel Boatright Letter
---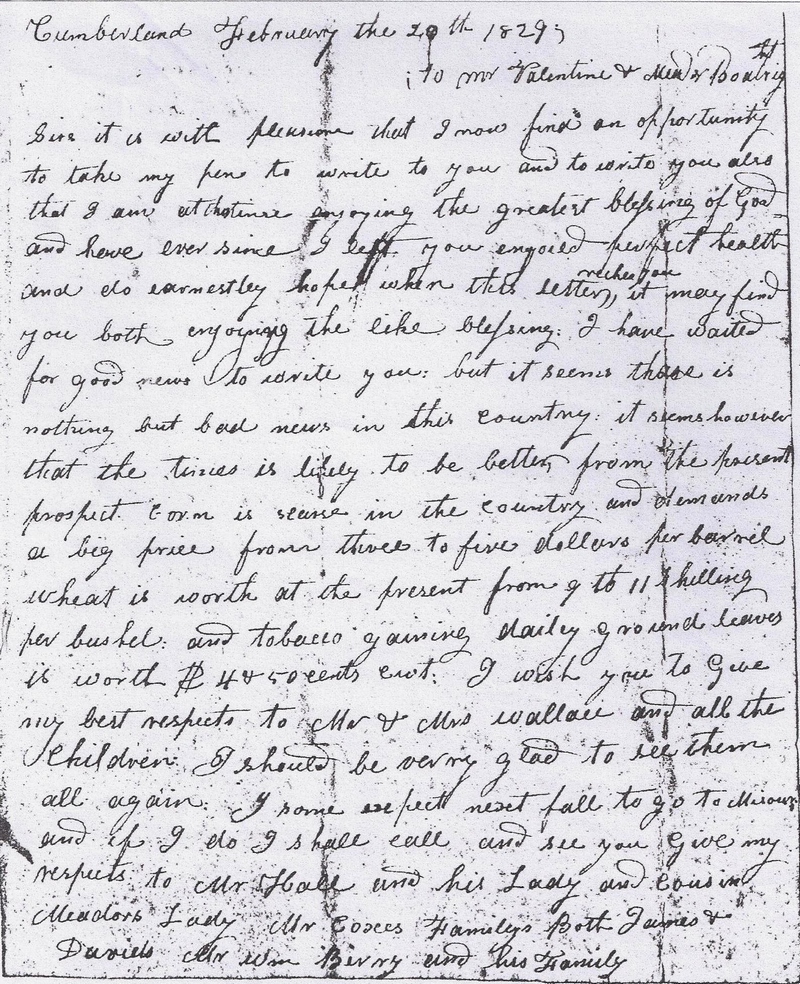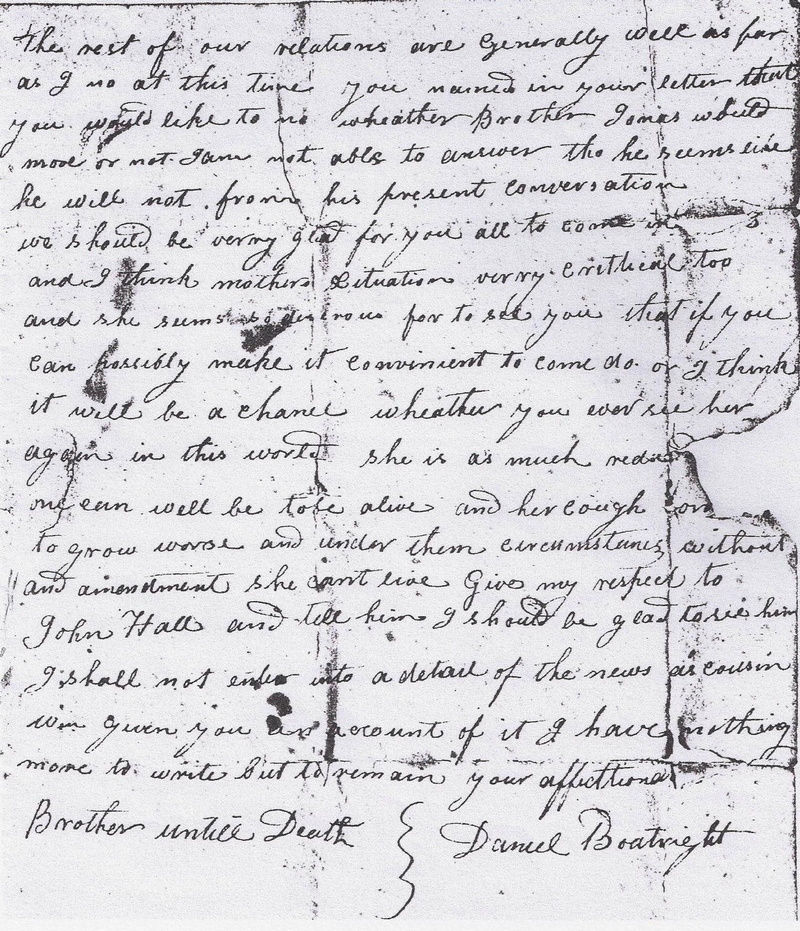 Text of letter from Daniel and his cousin William Meador to Daniel's brothers, Valentine and Meador Boatright:
Cumberland, February the 20th, 1829
To Mr. Valentine and Meador Boatright
Sirs it is with pleasure that I now find an opportunity to take my pen to write to you and to write you also that I am at this time enjoying the greatest blessings of God and have every since I left enjoyed perfect health and do earnestly hope when this letter reaches you it may find you both enjoying the like blessing. I have waited for good news to write you; but it seems there is nothing but bad news in this country; it seems however that the times is likely to be better from the present prospect. Corn is scarce in the country and demands a big price from three to five dollars per barrel. Wheat is worth at the present from 9 to 11 shilling per bushel; and tobacco gaining daily ground leaves is worth $4 and 50 cents cost. I wish you to give my best respects to Mr. and Mrs. Wallace and all children. I should be very glad to see them all again. I expect next fall to go to Missouri and if I do I shall call and see yoo. Give my respects to Mr. Hall and his Lady and cousin Meador's Lady, Mr. Cosees familys. Both Jamd and Daniels, Mr. Wm Biverly and his family, also to Mr. George Berry and Samuel Buster - tell them I should be very glad to see them. Send you cousin Valentine I wish to present my best respects to all the young Ladies in my acquaintance of the western country and more especially to the girl you no who and tell her I want to see her worse than any other person between Earth and heaven. Of all the of the news I have just thought to tell you that there is a young lady here in good hopes of your return yet I have to inform you that my mother got crippled last November and has never walked since without her crutch. The rest are all well except cold. I have nothing more to write you at this time but to umbly wish you to excuse bad writing while I subscribe myself yours with unbounded friendship and esteem until Death.
William M. Meador
--------------------------------------------------------------------
Dear Brothers
Myself and counsin Wm concluded to both write in the same letter as we thought it would answer every purpose. I have to inform you that Mother is still in bad health and has been declining ever since we wrote you before I think her considerable worse now than she was then. Father is also very unwell with a __________. The rest of our relations are generally well as far as I no at this time. You named in your letter that you would like to no whether Brother Jonas ______ more or not. I am not able to answer the he seems like he will not from his present conversation we should be very glad for you all to come and I think Mother's situation verry critical too and she seems anxious for to see you that if you can possibly make it convinient to come do. I think it will be a chance whether you ever see her again in this world. She is as much reduced ________ one can will be to be alive and her cough continues to grow worse and under these circumstances without an admendment she can't live. Give my respect to John Hall and tell him I should be glad to see him. I shall not enter into a detail of the news as cousin Wm given you an account of it. I have nothing more to write but to remain your affectionate Brother until Death.
Daniel Boatright
---
Boatwright/Boatright Family Genealogy Website
created by George Boatright, boatgenealogy@yahoo.com
Please e-mail any additions / corrections / comments.

last modified: January 2, 2013

URL: http://www.boatwrightgenealogy.com
---
Navigation / Home / Family History / DNA Project / Pictures / Stories / Back to Generation 7