Navigation / Home / Family History / DNA Project / Pictures / Stories / Back to Generation 10
---
DuBois-Boatwright House - Wilmington, North Carolina
---
The DuBois-Boatwright House: Built by John DuBois, merchant and town alderman in 1760. Remained in family until 1842. Inherited by Mrs. Lucy Wright Wooster in 1844. Her descendants, the Boatwrights, continue to own the property.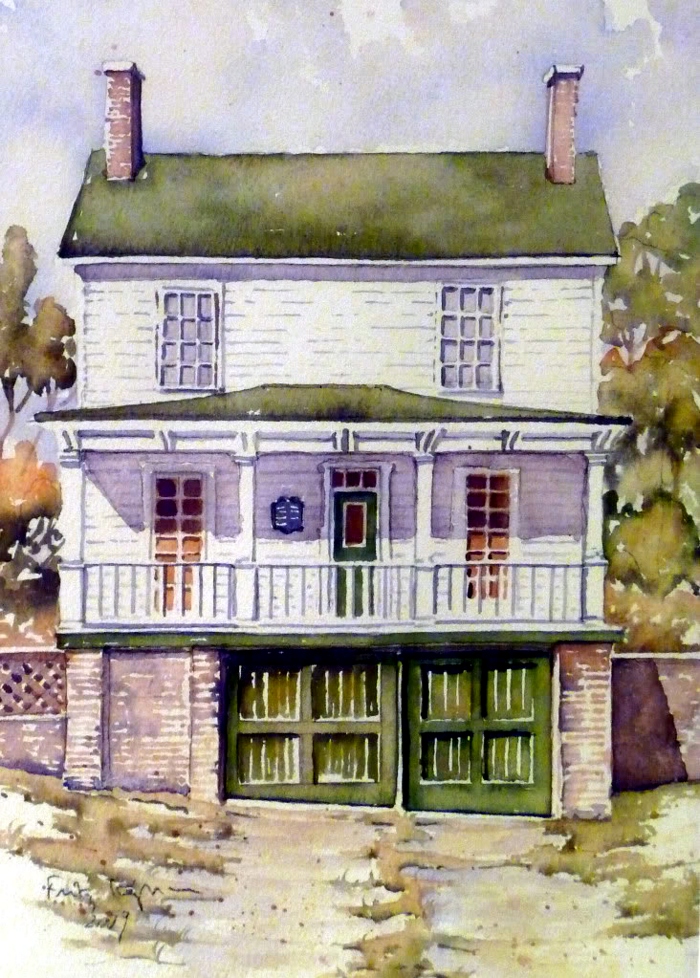 ---
Five photographs of the Dubois-Boatwright House taken in 1960, 14 South Third Street, Wilmington, North Carolina. Included are views of the front and north sides, north and south sides, close-up views of gate and lantern on south side.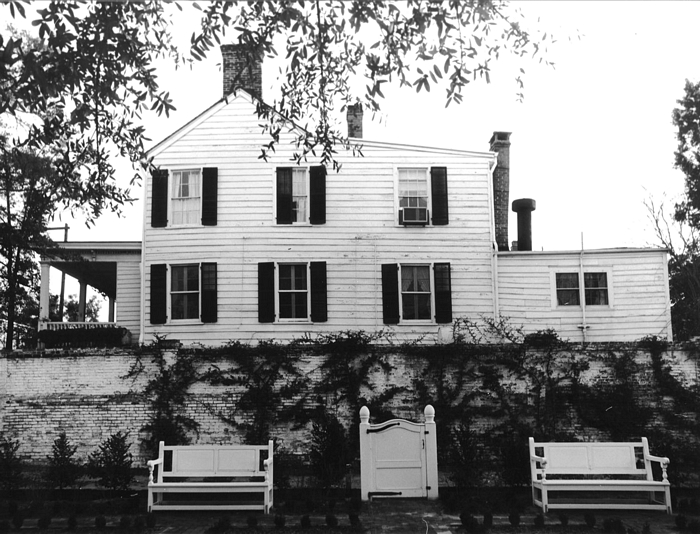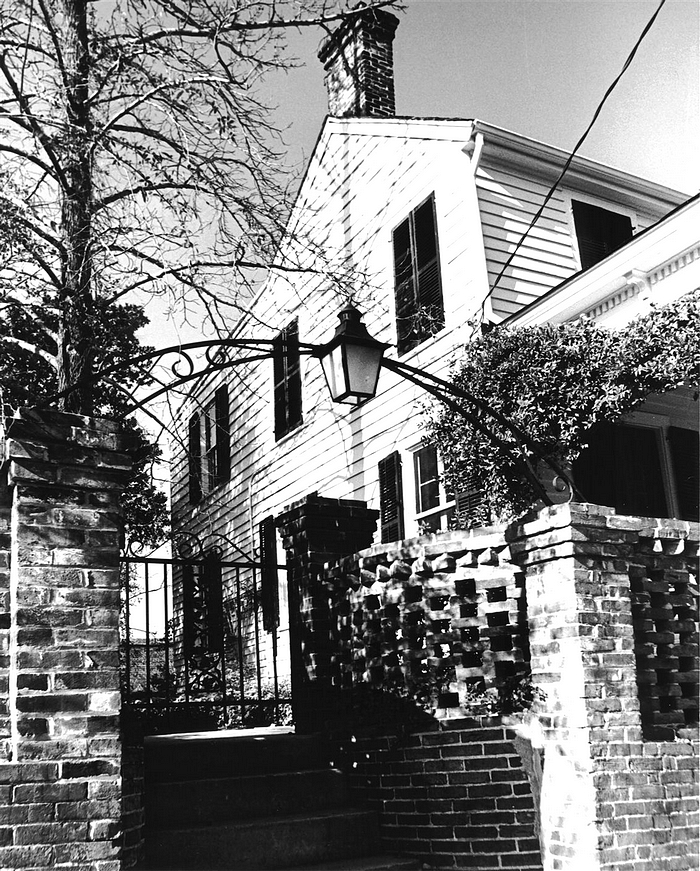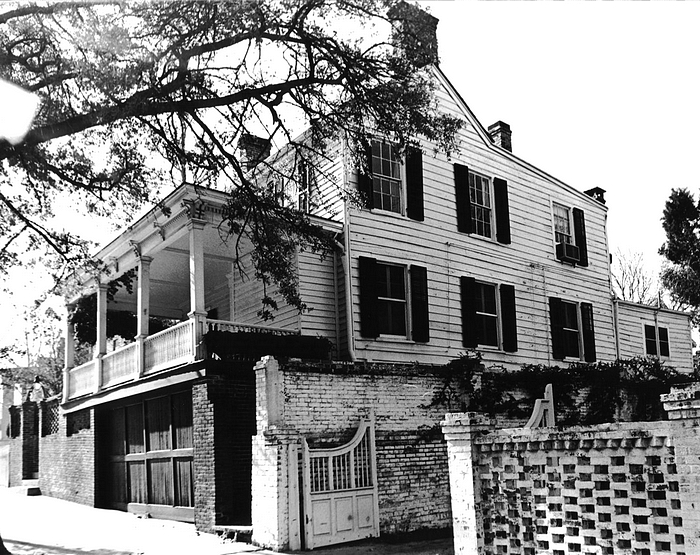 ---
One of Wilmington's oldest buildings makes the 2013 "Most Threatened" list
June 25, 2013 By Ben Brown
PortCityDaily.com - Wilmington, North Carolina
At nearly two and a half centuries of age, the DuBois Boatwright House on the first block of South Third Street is firmly one of historic Wilmington's oldest houses - one of the longest-standing buildings of any sort here, really.
Gathered with media outside its 1769 brick base and horizontally sliding, wooden garage doors Tuesday morning, Historic Wilmington Foundation (HWF) Board of Trustees President Michael Murchison put it hopefully: "The owner is very much interested in seeing this house restored."
That was after he noted it's "obviously in a deteriorating state" and that "if you step back you can see that there are issues with respect to the roof, there are issues with respect to the rear..."
Added Beth Pancoe, HWF trustee and head of SDI Construction, "The interior wooden structure is in pretty good shape. The foundation is in very bad shape... The brick is literally just evaporating away."
That's been the case a few years now for the DuBois Boatwright House, and subsequently this old Georgian-style building is the newest addition to HWF's annual "Most Threatened Historic Places" list, compiled to spotlight ailing sites of Cape Fear history.
A bright note, HWF officials said upon the unveiling of the new list Tuesday, is the house is still in the family, owned by a Boatwright who's been working with HWF on its preservation "and is searching for creative solutions to save the house," according to a narrative.
The awareness the list has generated for its inclusions has led to some success, said HWF Executive Director George Edwards. Among properties saved is the Dr. Elisha Porter Plantation in a part of Rocky Point that a few years ago was quaking with new development. Talk was the site could have been razed without preservation investments.
---
18th century house in Wilmington undergoes restoration
By Julian March
Julian.March@StarNewsOnline.com
WILMINGTON | Once inside the DuBois-Boatwright House, Beth Pancoe gravitates to an exposed beam where two walls meet.
An adoring Pancoe points to a mortise and tenon joint entwining the house's original timber - 248 years old, she recites proudly.
"It impresses me so bad I can't stand it," she said.
The corners are among some of the tantalizing discoveries yielded by the renovation of the aging South Third Street house, one of four 18th century residences still standing in Wilmington.
At the top of the two-story white house, rafters are fastened together by wooden pegs. Wooden shakes, or shingles, in the ceiling could be remnants of the home's original roof.
"It's just like presents," Pancoe said with a gleeful laugh.
Hard work
Crews with Pancoe's SDI Construction have been at work since April to restore the Dubois-Boatwright house, which has sat vacant for some years. The work is more than a treasure hunt, and it hasn't always been simple.
Water had seeped into the roof, trickling down and disintegrating a beam underneath the living room floor. As the house was jacked up to replace the beam, the rear wall fell.
On renovation projects, crews have to work with a different mentality, said Pancoe, who led restorations of UNCW's Wise House and the Temple of Israel.
In new construction, you start with the plans and go. In renovations, it's like working backwards. "You create a set of plans and then you talk about it a lot," Panco said.
But the end result will be worth the effort.
"I love saving old stuff," Pancoe said. She likes to take something not working and make it work better.
City process
Before the restoration of 14 S. Third St. began, the house's condition had worried preservationists.
It landed on the Historic Wilmington Foundation's 2013 list of "Most Threatened Historic Places," which was unveiled in front of the house.
For several years, the property has been the subject of a code enforcement case based on violations of the city's minimum housing code.
On June 2, the city council considered an order requiring the house be repaired or demolished.
"We will see to it this house is restored," Pancoe said at the meeting. The council delayed a vote to September, when it will get a progress report.
City leaders are lauding the $300,000 restoration project.
"I wish there were a dozen more of you to save a dozen more houses," Mayor Pro Tem Margaret Haynes told Pancoe.
Saving history
The DuBois-Boatwright house was built in the 1760s by John DuBois, a merchant and alderman. The Wooster family inherited the house in 1844. Through marriage, Wooster ownership went to the Boatwright family, according to Tony Wrenn's "Wilmington North Carolina: An Architectural and Historical Portrait."
Owner Julie Boatwright Pettee grew up in the house, where her father, Swift Miller Boatwright, was born.
Though she hasn't lived in the house for some years, she has long had plans to restore it.
"We've tried for years to get it done," Pettee said.
The project is eligible for federal historic preservation tax credits, though Pettee is disappointed North Carolina's historic tax credit program has ended.
Having the home renovated will be a nice addition to the city, Pettee said, noting the home is across from St. James Church and next-door to the Burgwin-Wright house.
When Pettee's husband, Robert, proposed to her in the St. James churchyard, he promised her he wanted to marry her and help her restore her family home. They were married in 2012 across the street with the home as a backdrop, she said.
Historic Wilmington Foundation Executive Director George Edwards is heartened to see progress on the home since 2013, when the foundation sounded the alarm about the future of the house.
Not long after, Pettee donated a historic preservation easement, protecting her family home from demolition and inappropriate change.
Then came Pancoe and SDI Construction, which Pettee chose for Pancoe's affinity for the historic.
"I think it's great that after all the years we're on the verge of saving this building and making it the landmark it needs to be," Edwards said.
HISTORIC HOME TOUR
Home tour spotlight - See restoration in progress on DuBois-Boatwright House
By Samantha Santana - StarNews Intern
Published: Friday, April 1, 2016 at 12:30 a.m.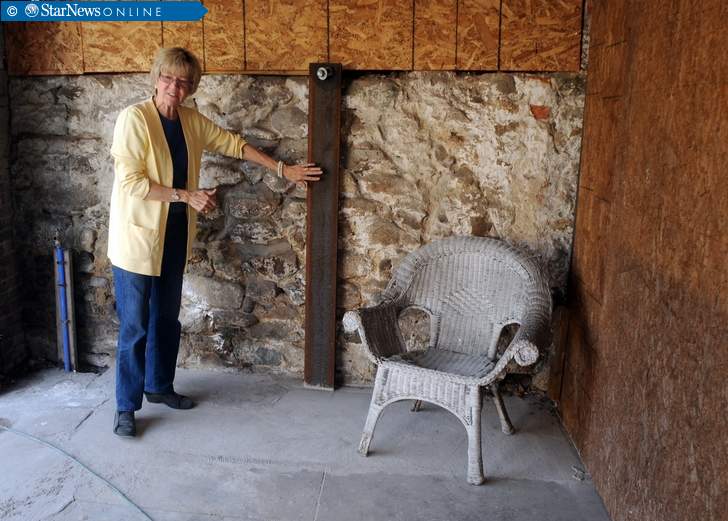 Beth Pancoe, President and CEO of SDI Construction Inc., points out ballast stones from ships that were used in the foundation of the Dubois-Boatwright House at 14 S. 3rd Street in Wilmington. The home will be featured on the Azalea Festival home tour. Mike Spencer/StarNews
A few white flower petals danced inside the DuBois-Boatwright House on Monday. The afternoon sun poured through the 18th century home's glass panel windows.
"There's a lot of history here in the city. If you lose that, what do you have?" asked owner Julie Boatwright Pettee. "You get a blank lot with a bunch of dirt."
The house, which is part of the Azalea Festival Historic Home Tour, was maze-like to a stranger on a recent visit - two floors with multiple white rooms, glass windows, unfinished structures and construction tools everywhere. Pettee glided around rooms with a somber confidence, recalling childhood memories.
From the newly slated kitchen area, Pettee remembered being in the house during a hurricane when she was in the sixth grade. When the hurricane had finally passed and the world was once again quiet, the metal roofing was peeled off of the house, rolled and tossed on the brick walkway. "Like a sardine can," Pettee said.
On June 2, the Wilmington city council considered an order requiring the house on 14 S. Third St. to be repaired or demolished.
Beth Pancoe and her crew from SDI Construction have been hard at work reconstructing the DuBois-Boatwright House for approximately a year. Pancoe, the building's contractor, said when the crew first began construction, the house was falling apart.
"All the bottoms of the windows were all gone," Pancoe said, pointing at the now-present window frames. "And the glass just started falling out, like guillotines on people's heads."
In order to qualify for historic preservation tax credits, the home must be income-producing for five years, so Pettee plans to rent the house out after reconstruction is complete.
North Carolina's historic preservation rehabilitation tax credits expired at the end of 2014 for income-producing and non-income producing properties, news that affected Pettee and her husband, Robert.
"We lobbied long and hard. We called representatives. We used social media. A lot of people did," Pettee said. "If you lose a house like this, you can't recreate it. If you don't have homes like this, you'll lose the city's identity."
North Carolina reinstated the tax credit in 2016, but none of the 2015 reconstruction was eligible for state credits. "We would have received $40,000 in tax credit," Robert Pettee said.
Selling the house is not an option, Pettee said. "I'm attached to it. It's like a member of the family. My father was born here. I grew up here. My great aunt had a history with the house."
Historic Wilmington Foundation Executive Director George Edwards said that although including a home that has not finished restoration is not common, it is an opportunity to showcase a historic home's reconstruction process.
"This will be the third historic home that we have had on tour that has been under restoration," Edwards said. "This is very exciting for people (to) see the bones of an 18th century home."
---
Boatwright/Boatright Family Genealogy Website
created by George Boatright, boatgenealogy@yahoo.com
Please e-mail any additions / corrections / comments.

last modified: June 25, 2013

URL: http://www.boatwrightgenealogy.com
---
Navigation / Home / Family History / DNA Project / Pictures / Stories / Back to Generation 10