Navigation / Home / Family History / DNA Project / Pictures / Stories / Back to Generation 10
---
Elizabeth Moore Boatwright Coker
---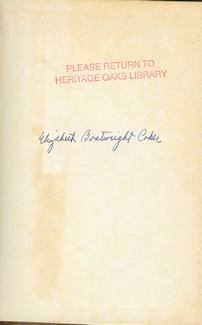 Elizabeth Moore Boatwright Coker: April 21, 1909 - September 1, 1993
Elizabeth Moore Boatwright Coker of Hartsville was an author, poet and lecturer. She was born in Darlington in 1908. She graduated from St. John's High School and earned a B.A. degree from Converse College in 1929.
Her published novels include Daughter of Strangers (1950), The Day of the Peacock (1952), India Allan (1953), The Big Drum (1957), La Belle (1959), Lady Rich (1963), The Bees (1968), Blood Red Roses (1977) and The Grasshopper King (1981).
Coker has won numerous literary prizes and is a member of PEN, the Author's Guild, National Academy of Poets, A.A.U.W., the Garden Club of America and the Poetry Society of S.C. She was a lifetime trustee of Converse College, and on the Board of Directors of the South Carolina Museum, the Caroliniana Society, the Palmetto Trust for Historic Preservation, the Executive Board of the South Carolina Academy of Authors and chairman of the Pee Dee Heritage.
In 1987 she received an honorary doctorate from Converse College. She was inducted into the South Carolina Academy of Author's Hall of Fame in 1991. She is listed in Who's Who in America and Who's Who in the World.
She was inducted into the SC Hall of Fame in 1992 and her tribute was given by General William Westmoreland.
---
Boatwright/Boatright Family Genealogy Website
created by George Boatright, boatgenealogy@yahoo.com
Please e-mail any additions / corrections / comments.

last modified: March 12, 2009

URL: http://www.boatwrightgenealogy.com
---
Navigation / Home / Family History / DNA Project / Pictures / Stories / Back to Generation 10