Navigation / Home / Family History / DNA Project / Pictures / Coat of Arms / Stories
---
John Botwright Will - 1474
---
John Botwright, parents names not known, was born in 1400 in Swaffham, Norfolk County, England.
John died in 1474 and is buried in the Church of St. Peter and St. Paul at Swaffham, Norfolk. It is not known that John Botwright, D.D., is an ancestor of the Boat(w)right's in America. It is not known if he ever married.

John had a fellowship at the University of Cambridge before the year 1430, which he probably resigned upon being presented to the rectory of Swaffham Market in Norfolk County by his patron, the Duke of Bedford.
Note: John of Lancaster, 1st Duke of Bedford, (20 June 1389 - 14 September 1435) was the third surviving son of King Henry IV of England by Mary de Bohun, and acted as regent of France for his nephew, King Henry VI.
After his father's accession to the throne of England as Henry IV, John of Lancaster began to accumulate lands and lucrative offices. He was knighted on 12 October 1399 at his father's coronation and made a Knight of the Garter by 1402. Between 1403 and 1405 grants of the forfeited lands from the House of Percy and of the alien priory of Ogbourne, Wiltshire, considerably increased his income. He was appointed master of the mews and falcons in 1402, Constable of England in 1403 and Warden of the East March from 1403 to 1414. He was created Earl of Kendal, Earl of Richmond and Duke of Bedford in 1414 by his brother, King Henry V.
When Henry V died in 1422, Bedford vied with his younger brother, Humphrey, Duke of Gloucester, for control of the Kingdom. Bedford was declared Regent but focused on the ongoing war in France, while during his absence, Gloucester acted as Lord Protector of England. Bedford defeated the French several times, most notably at the Battle of Verneuil, until the arrival of Joan of Arc rallied the opposition. In 1431, Bedford had Joan tried and executed at Rouen, then arranged a coronation for the young Henry VI at Paris. Source: Wikipedia
From 1435 to 1474, John Botwright was rector of Swaffham, and compiled the Swaffham Black Book. This was an invaluable record of all the work done on the rebuilding of the church.

Will of John Botwright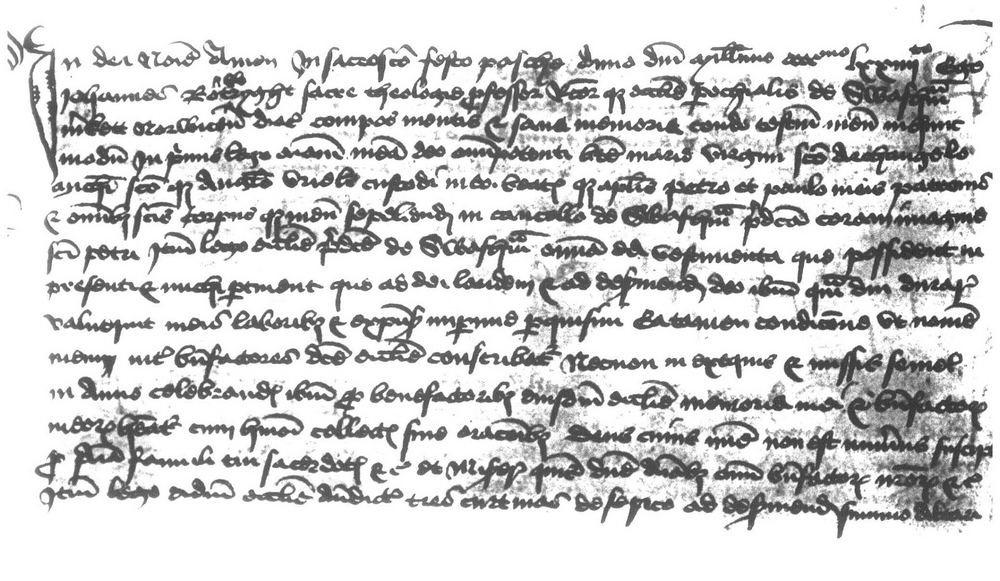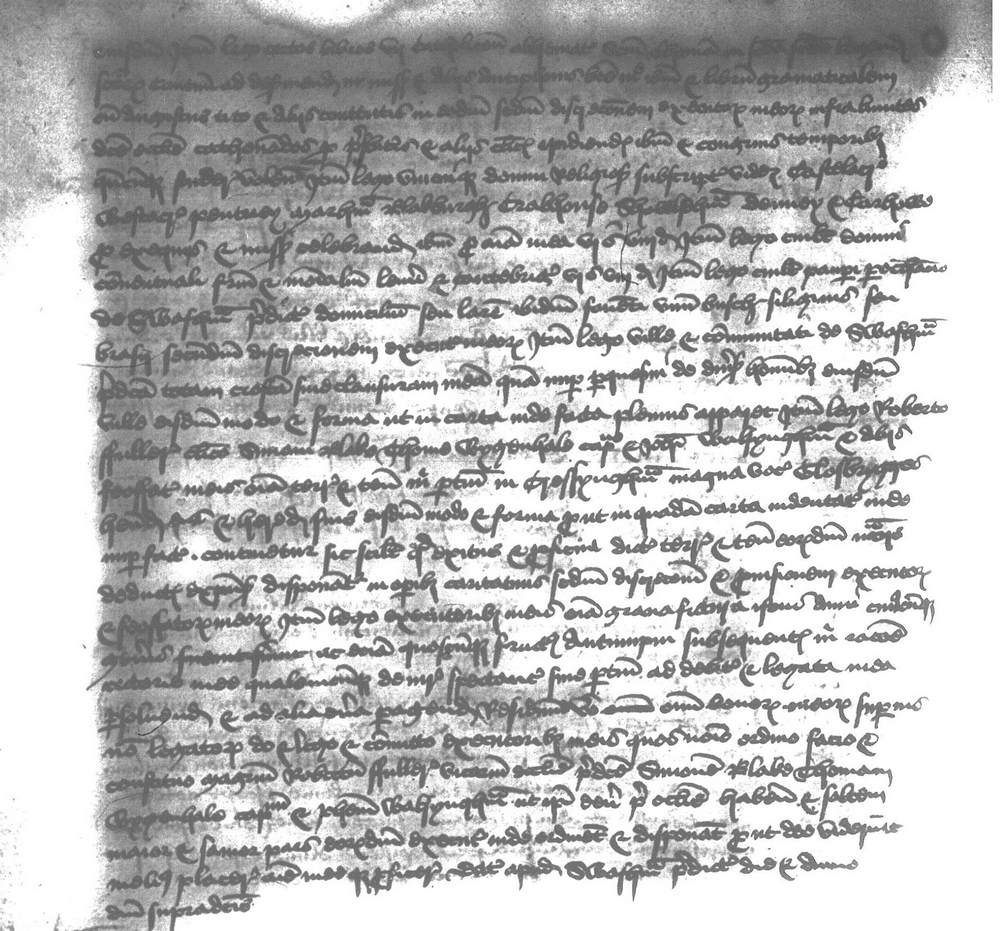 ---

Latin:
Test'm Joh'is Botewryght R'coris eccl'ie de Swafham
In dei No'ie Amen In sacros'co festo pasche Anno d'ni Mill'imo CCCCmo Lxxiiijto Ego Johannes Botryght sacre theologie pfessor R'cor q' eccl'ie pochialis de Swafham mrkett Norwicen' dioc' compos mentis & sana memoria condo test'm meu' in hunc modu' In pimis lego a'iam mea' deo om'ipotenti b'te Marie virgini s'co Archangelo Mich'i s'coq' Ang'lo Vriele custodi meo beats q' ap'lis Petro et Paulo meis patronis & om'ibs s'cis corpus q' meu' sepeliend' in cancello de Swafham prd'co coram imagine s'ci petri It'm lego eccl'ie prd'ce de Swafham om'ia ea vestimenta que possident in presenti & michi ptinent que ad dei laudem & desuend' deo ib'm qamdiu durar' valuerint meis laboribs & exp'ns impime pquisiui Ea tamen condic'ois vt nome' meum intr b'nfactores d'ce eccl'ie conscribatr Necnon in exequis & missis semel in anno celebrands ib'm p benefactoribs eiusd'm eccl'ie memoria mei & b'nfactor meor h'eatr cum h'mo'i collect' siue orac'oibs Deus cuius mi'e non est numrus suscipe p d'na famuli tui sacerdots &c' et Miser' q'mus d'ne a'iabs o'im b'nfactor meor &c' It'm lego eid'm eccl'ie an'dict' tres curtinas de serico ad desuiend' summe altari eiusd'm It'm lego certos libros viz Catholicon' abbreuiat' ........ legend' s'cor contin' ad desuiend' in miss & alijs Antiphonis ...... ib'm & libru' gramaticalem cu' Augustus tito & alijs contentis in eod'm s'cdm discrec'onem executor meor infra limites d'ce eccl'ie cathena'dos p prsbitris & alijs cl'ics erudiend' ib'm & congruis temporibs qu'cu'q' studer' volen' It'm lego vnicuiq' domui Religios subscript' vide' Castelacr' Westacr' Pentney Marham Blakburgh Crabhouse Showlsdham Denney & Carhowe p exequijs & miss celebrand' ib'm p a'ia mea vjs' viijd' It'm lego cuil't domui co'uentuali fr'm & mo'ialiu' Lenn' & Cantebrig' vjs' viijd' It'm lego cuil't paupi poch'ano de Swafham prdict' domiciliu' seu lare' ibid'm foue'ti vnu' busch' siliginis seu brasij secu'd'm discrecionem execut' meor It'm lego ville & co'munitati de Swafham prd'ca totam crofta' siue clausuram mea' qua' nup pquesiui de diurs hom'ibs eiusd'm ville eisd'm modo & forma ut in carta inde facta plenius apparet It'm lego Roberto Fuller cl'ico Simoni Blake Thome Wygenhale capno & Joh'i Walsyngham & alijs feoffat' meis o'ia terr' & ten' mi ptin' in Cressyngham magna voc' Glosbrygges h'end' eis & hered' suis eisd'm modo & forma put in quada' carta indentat' inde nup fact' continetur sic scil't qd exitus & pficua dict' terr' & ten' eordem ncaijs deducts exp'ns dispona'tr in opibs caritatiuis s'cdm discrec'em & puisionem executor & feoffator meor It'm lego executoribs meis o'ia grana futura istius anni cuiscu'q' genris fuernt furint ac ecia' quoscu'q' fructs Autumpni subsequents in raco'e rectorie mee qualemcu'q' de iur' spectant' siue ptin' ad debit' & legata mea psoluend' & ad alia onra pagend' Residuu' vro o'im o'im bonor meor supius no' legator do & lego & co'mitto executoribs meis quos no'ie ordino facio & constituo Mag'rm Robertu' Fuller vicariu' eccl'ie prd'ce Simone' Blake Thomam Wygenhale capnu' & Joh'em Walsyngham ut ip'i deu' pr oc'lis haben' & saltem maior & sanior pars eord'm execut' inde ordine't & dispona't put deo viderint melis placer' a'ie mee q' pficer' Dat' apud Swafham prdict' die & anno d'ni suprad'cis
Probatum fuit fuit p'ns test'm apud Norwicum Coram nobis in eccl'ia Offic' Cons' d'ni Nor' Ep'i & p nos appbat' & insinuat' ac p vero & l'timo test'o def' infrascripti pnu'cits vijo die mens Junij Anno d'ni Mill'imo CCCCmo lxxiiijto Et co'missa fuit admi'strac'o o'im & sing'lor d'cm defuctu' & suum h'mo'i test'm concrnen' M' Roberto Fuller Simoni Blake & Thome Wygenhale capno executoribs in eod'm test'o no'iats in forma iuris iurats Resuat' nobis p'tate co'mittend' h'mo'i admi'strac'om Joh'i Walsyngham alij coexecutori in eod'm t'o no'iat' cu' venrit eam in forma iuris subitur' In cuius rei &c'

Translation:
In the name of God, amen. On the holy feast of Easter in the year of the Lord 1474, I, John Botryght, Professor of Sacred Theology, and rector of the parish church of Swafham Markett, in the diocese of Norwich, being sound of mind and clear of memory, make my testament in this manner. Firstly, I leave my soul to Almighty God, the Blessed Virgin Mary, the St Michael the Archangel, and to St Uriel my keeper, and to the blessed apostles Peter and Paul my patrons, and to all the saints; and my body to be buried in the chancel of Swafham aforesaid before the image of St Peter. Also, I leave to the aforesaid church of Swafham all those vestments that they possess at present and belong to me, which (for the praise and service of God there may they long endure) I first purchased by my work and expense — but on this condition, that my name shall be written among the benefactors of the said church, and that in the obsequies and masses celebrated once a year there for the benefactors of the same church the memory of me and of my benefactors shall be had with these collects or prayers, Deus cuius miserie non est numerus suscipe pro domina famuli tui sacerdotes &c. and Miserere queremus domine animabus omnium benefactorum meorum &c. Also I leave to the same church aforesaid three silk curtains for the high altar of the same. Also I leave certain books, to wit, the Catholicon Abbreviate ..... containing the Legend of Saints, to be used in the masses and other antiphonars ..... there and a grammar book with Augustus, Tito and other things contained in the same, to be placed, at the discretion of my executors, chained up within the limits of the said church, for the priests and other clergy to study from there, and, at suitable times, for anyone wishing to consult. Also I leave to each of the monasteries following, to wit, Castelacre, Westacre, Pentney, Marham, Blakburgh, Crabhouse, Showlsdham, Denney and Carhowe, 6s 8d for celebrating my obsequies and masses; also I leave to each conventual house of brothers and nuns at Lenn and Cambridge 6s 8d. Also I leave to each parish pauper of Swafham aforesaid having house or hearth there 1 bushel of rye or malt, at the discretion of my executors. Also I leave to the town and commonalty of Swafham aforesaid all my croft or inclosure that I lately purchased from divers men of the same town, in the same manner and form as in the charter thereof more fully appears. Also I leave to Robert Fuller clerk, Simon Blake, Thomas Wygenhale chaplain and John Walsyngham and others my feoffees all lands and tenements pertaining to me in Great Cressyngham called Glosbrygges: to have to them and their heirs the same way and form as contained in a certain charter indentate therein lately made, namely thus, that the issues and profits of the same lands and tenements (necessary expenses having been deducted) shall be disposed in works of charity according to the discretion and provision of my executors and feoffees. Also I leave to my executors all corn of any sort this coming year and also whatever autumn fruits shall belong or pertain by reason of my rectory by whatever right, towards paying off my debts and legacies, and meeting other charges. I give and commit the remainder of all my goods not above bequeathed to my executors whom I ordain by name, make and constitute, master Robert Fuller vicar of the church aforesaid, Simon Blake, Thomas Wygenhale chaplain and John Walsyngham, that they, having God before their eyes, or at least the greater and sounder part of the same executors, shall order and dispose therein as shall seem best to please God and to profit my soul. Given at Swafham aforesaid the day and year of the Lord abovesaid.
The present testament was proved at Norwich before us the Official of the Consistory of the Lord Bishop of Norwich, and by us approved and registered, and pronounced as the true and lawful testament of the within written deceased, on the 7th day of the month of June in the year of the Lord 1474; and administration of all and singular concerning the said deceased and his testament in this form, to master Robert Fuller, Simon Blake and Thomas Wygenhale chaplain, executors named in the same testament, sworn in form of law; reserving to us the power of committing such administration to John Walsyngham, the other co-executor named in the same testament should he come to assume it in form of law: in witness of which &c.
---
Boatwright/Boatright Family Genealogy Website
created by George Boatright, boatgenealogy@yahoo.com
Please e-mail any additions / corrections / comments.

last modified: March 19, 2015

URL: http://www.boatwrightgenealogy.com
---
Navigation / Home / Family History / DNA Project / Pictures / Coat of Arms / Stories