Navigation / Home / DNA Project / Name Index / Pictures / Stories / Obits / Generation 2 / Generation 4
---
Boat(w)right Family Genealogy in America
Generation 3
---
3. JOHN BOATWRIGHT, III (JOHN3, JOHN2, Not Yet Determined1) was born ca. 1680 in Virginia, and died in New Kent, Virginia. He married SARAH DYER ca. 1701 in York County, Virginia, daughter of WILLIAM DYER and MARY. She was born ca. 1683 in York County, Virginia, and died Unknown.

Notes for John Boatwright, III:
Not much is known about John Boatwright (the third successive Boatwright named John). He most likely lived his entire life in that portion of colonial New Kent County which lies in modern Hanover County. He was a member of both St. Peter's and St. Paul's parishes during his lifetime. John married Sarah Dyer in 1701.
In the lists of 1704, John paid a quit rent (tax) on 250 acres of land in St Peter's Parish in New Kent County. Some 490 New Kentians were taxed that year, owning a total of 173,870 acres. The average farm was therefore 355 acres, making John Boatwright's lands somewhat less than the average New Kent farmer's.















There is evidence that John married Sarah Dyer in ca. 1701, she was born, ca. 1683, the daughter of William Dyer, born 1661 and wife Mary, born 1664. Sarah's mother, Mary's will, dated March 7, 1702 named "Sarah Boatright my daughter," and Sarah's brothers & sisters.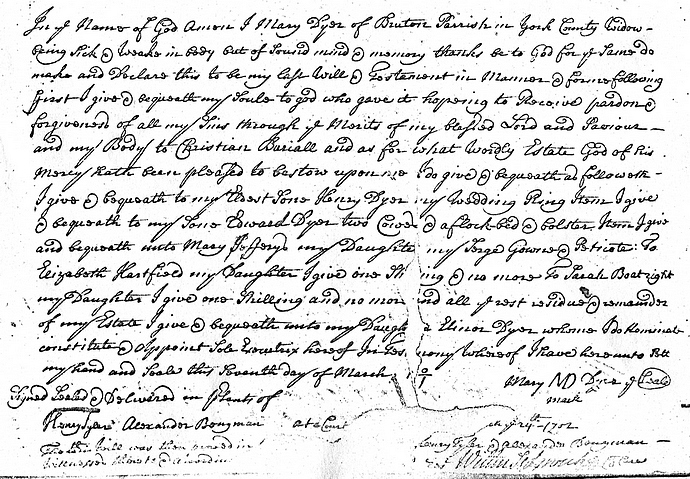 John appears to have lived his life in New Kent/Hanover Counties. Because of the burning of the New Kent and Hanover court house records, many valuable records including land purchases and sales, to further substantiate John's life, have been lost.

Botwright, Boatwright and Bootwright:
Virginia records contain several spellings of what is today considered the same family by genealogists. These variations of the family's surname are still in use and it's thought that one of John Boatwright's sons was James Bootwright.
How did the spellings come to vary? It's entirely possible that the Virginia accents of the 1700's caused the pronunciation of the "Bot" in "Botwright" to sound like "Boat" or "Boot." Since many documents of the time were created with phonetic spellings, the actual names used to identify our ancestors could change over time (both from father to son and even for the same individual if different clerks recorded the ancestor's name on court documents at different times).
Phonetic spelling wasn't limited to courthouse clerks – our ancestors themselves may have contributed to the confusion. The ability to read and write in the 1700s was nowhere near as universal as today. Many court documents were simply marked with an "X", so perhaps our ancestors couldn't assist those recording their names with the proper spelling because they had no idea themselves how to write their own surnames.
Source: Frederick Oswald (Pete) Nuckols, Jr.
Children of JOHN BOATWRIGHT, III and SARAH DYER are:



  4-1A  i. SARAH BOATWRIGHT,  b. ca. 1700, New Kent County, Virginia;  


                               d. Aft. 1777, Amelia County, Virginia.




  4-1  ii. JOHN BOATWRIGHT,  b. ca. 1702, New Kent County, Virginia;  


                              d. ca. 1710, Hanover County, Virginia.




  4-2 iii. THOMAS BOATWRIGHT,  b. ca. 1705, New Kent County, Virginia; 


                                d. 16 Aug 1776, Cheraws District,


                                South Carolina.




  4-3  iv. BENONI BOATWRIGHT,  b. ca. 1710, New Kent County, Virginia; 


                                d. ca. 1784 Cumberland County, Virginia




  4-4   v. WILLIAM BOATWRIGHT,  b. ca. 1712, New Kent County, Virginia; 


                                 d. Bef 1782, Hanover County, Virginia




  4-5  vi. JAMES BOATWRIGHT,  b. ca. 1715, New Kent County, Virginia; 


                               d. Hanover County, Virginia



---
Boatwright/Boatright Family Genealogy Website
created by George Boatright, boatgenealogy@yahoo.com
Please e-mail any additions / corrections / comments.

last modified: April 14, 2015

URL: http://www.boatwrightgenealogy.com
---
Navigation / Home / DNA Project / Name Index / Pictures / Stories / Obits / Generation 2 / Generation 4