Navigation / Home / Index / Documents / Photos / Stories / Gravestones / Obits / Generation 11
---
Boat(w)right Family Genealogy in America
Generation 12
---
12-154. KENNETH W. BOATRIGHT (LLOYD FORD12, HUGH FRANKLIN11, SAMUEL MARSHALL10, ROBERT9, DANIEL8, DANIEL D.7, DANIEL6, WILLIAM5, JOHN4, JOHN3, JOHN2, Not Yet Determined1) was born 24 Nov 1928 in Saline County, Illinois, and died 28 Mar 2002 in Marion, Williamson County, Illinois.

Notes for KENNETH W. BOATRIGHT: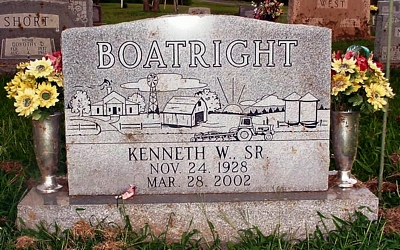 Marion-Kenneth W. Boatright Sr., 73, of Marion passed away 2:10 P.M on March 28, 2002 at his daughter's residence.
Funeral Services will be 2:00 P.M., Saturday March 30, 2002 at Mitchell-Hughes Funeral Home. Burial will follow at Mt. Pleasant Cemetery at Poordo, Illinois.
Kenneth was born On November 24, 1928 in Saline County Illinois to Lloyd and Gladys (Welborn) Boatright.
Kenneth was retired having worked at Patton Roof Bolts.
Survivors Include: Two sons and daughter in laws; Kenneth and Sue Boatright Jr. of Mascoutah, Lloyd and Traci Boatright of Johnston City, a daughter, Kathy Wollard of San Diego, CA and a daughter and son in law, Cynthia and Ray Bell of Marion, Twelve grandchildren; Chelsi Boatright, Kelly Hoffmann, Kevin Hoffmann, and Katy Hoffman all of Mascoutah; Kent Boatright of Nashville, Brianna Wollard and Anthony Bell of Marion, Gina Belcher, Ashley Boatright, Tiffany Boatright and Jeffrey Boatright of Johnston City, and Grandson and grand daughter in law, Zak and Courtney Richerson of San Diego, CA.
Two sisters, Dorothy Boatright and Mary Lou Quast and a granddaughter, Brittany Boatright, preceded him in death.

1930 Census:
Name: Kenneth Boatright
Date: April 3, 1930
Home in 1930: East Marion, Williamson, Illinois
Age: 1 year, 11 months
Estimated birth year: abt 1928
Birthplace: Illinois
Relation to Head of House: Son
Father's Name: Loyd
Mother's Name: Gladis
Race: White
Census Place: East Marion, Williamson, Illinois;
Roll 570; Page: 3B;
Enumeration District: 33; Image: 769.0.

Burial: Pleasant Grove Cemetery, Crab Orchard, Williamson County, Illinois
---
Boatwright/Boatright Family Genealogy Website
created by George Boatright, boatgenealogy@yahoo.com
Please e-mail any additions / corrections / comments.

last modified: January 9, 2011

URL: http://www.boatwrightgenealogy.com
---
Navigation / Home / Index / Documents / Photos / Stories / Gravestones / Obits / Generation 11